Yuvraj Singh revealed post his match-winning knock on Thursday that he could have retired from the game had skipper Virat Kohli not shown faith in him. The southpaw smashed a career-best 150 to power India to a formidable score of 381/6 after the team was reeling at 25/3. A 256-run partnership with veteran Mahendra Singh Dhoni revived the team's hopes and helped the hosts win the match by 15 runs, also clinching the three-match series 2-0.
The 35-year-old said he did contemplate retirement at one stage after his fight against cancer but it was Kohli's trust in him that made him think about repaying the faith.
"Self-confidence is always there when you have the backing of the team and captain. I think Virat has showed a lot of trust in me and it was very important for me that people in the dressing room trust me," Yuvraj said after India's series clinching win in the second ODI.
"There was a time when I was wondering whether to continue or not to continue. I think a lot of people have helped me throughout this journey. So, never giving up is my theory. So I never gave up, kept working hard. I knew times will change," the 35-year-old said.
His last international hundred came way back in 2011 World Cup in Chennai and no wonder he is happy after his 14th ton.
"It feels great. It's been a while since I got a hundred. I came back after recovering from cancer, the first 2-3 years were very hard. I had to work hard on my fitness and I was in and out of the team. I was not able to get a permanent spot."
Yuvraj returned on the back of a strong performances in Ranji Trophy this season that saw him hit another career-best — 260 against Baroda in October last year.
"I've been batting well in the domestic season. And I've been hitting the ball really well. I wanted to make it big on my day," he said.
His inclusion had mixed reactions with some feeling that selectors were going backwards but nothing affected the stylish left-hander.
"I don't think about who's reacting to what nor do I read newspapers. I don't watch TV too. I try to focus on my game and prove a point to myself that I'm still good enough for international cricket. So I guess I was good today."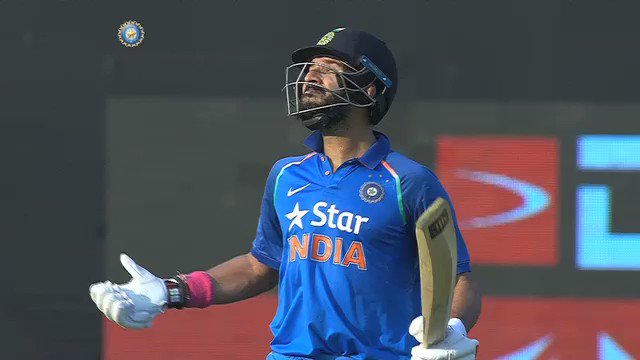 For now, the immediate goal is to be consistent in the coming matches.
"Definitely, 150 is a huge score in one-day cricket. It's my highest and taken a long time to get there but I am very happy it happened today. Hopefully, in the coming time I can contribute more consistently."
Yuvraj found his old ally in MS Dhoni who also brought up a century (134 from 122 balls) as they added 256 runs for the fourth wicket.
Asked what were they discussing during the partnership, Yuvraj said:"Nothing much. We two were the most experienced players in the team. He realised that I was getting boundaries. He was just there rotating the strike and our first target to make a 25 runs together then go for 50 partnership. After that we wanted to take it further to 100. I think once that happened we were both set."
Yuvraj has had some good partnerships with Dhoni during good old days and he feels that the comfort level he shares having batted alongside him for so long is key to their success.
"We always have been batting together since he started his career. Obviously I started much earlier. Mahi and me have played a lot of games for India. The camaraderie is always there. I think we have a lot of understanding when we bat together. Running between the wicket is always good. I hope it works on the future as well."
Yuvraj termed the new-look England, a dangerous side, which can "hurt" any bowling attack as they have put up scores of 350-plus in both the ODIs.
"They have been playing pretty well. I feel they have a lot of dangerous players in the middle-order and they can actually hurt a lot of bowlers. It is a young group and the more they play, the more they will get better. It looks like a dangerous side for the future. The more conditions they play in, they better will they get as a side."
Yuvraj feels that the rule changes have made it difficult for bowlers to contain.
"Over the generations, England have had some great players. Those times it was Harmison and Flintoff. I just feel rules of one-day cricket have changed a lot and it is hard for bowlers to bowl with five inside when you have no help from the wicket. England have played brilliantly well in the last two games, they've scored 350-plus."